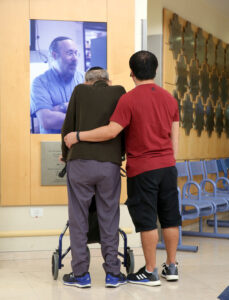 On YomHazikaron Israel's Day of Remembrance we remember the Fallen Soldiers of Israel and Victims of Terror. Our doctors sadly see far too many in our emergency department, whose lives we have been unable to save.
A very personal story for us is that of our own Dr David Applebaum who was the Director of our Department of Emergency Medicine.
In September 2003 Dr Applebaum and his daughter Naava were killed in the most tragic of circumstances the evening before Naava's wedding.
Applebaum's murder was described by The Lancet as a tragic irony: This victim of a suicide bomber was himself an "emergency room doctor who treated victims of dozens of suicide bombings in Israel."
He pioneered the idea of immediate care clinics in Israel (Terem), to divert non-emergency cases from hospital emergency rooms and was considered 'a master of emergency medicine' by Professor Jonathan Halevy. He is dearly missed.
This week we have launched our Memorial Book campaign, a lovely way to honour the memory of your loved ones by ensuring the health of future generations at Shaare Zedek Medical Centre. Please visit the Memorial Book page on our website for more information.
"As long as we live, they too will live; for they are now a part of us; as we remember them."