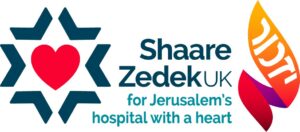 The Shaare Zedek Permanent Yahrzeit Programme (PYP) provides an opportunity to remember and honour those we have loved and lost by providing a potentially life-saving gift to others.
The Permanent Yahrzeit Programme ensures that Kaddish will be recited every year on the anniversary of your loved one's passing. On that day, the name of the departed will be recited during services when Kaddish is said at our synagogue inside the hospital in Jerusalem.
You can also arrange an advance Yahrzeit for yourself or a loved one, providing the comfort of knowing that Kaddish will be said annually in perpetuity for you or a loved one.
Jewish practises relating to death and mourning have two purposes – showing respect for the dead (Kavod Ha-Met) and providing comfort to the living who will dearly miss the departed (Nihum Avelim). The Shaare Zedek Yahrzeit Memorial Programme does both.
You can set up a PYP by purchasing below. If you have any questions please contact simi@shaarezedek.org.uk