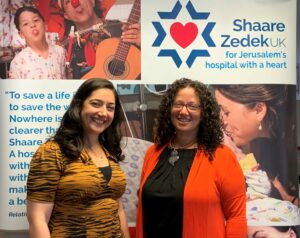 PRESS RELEASE 07.06.2023
Shaare Zedek UK is pleased to announce that Oshrit Cowan has been appointed CEO succeeding Simi Ben Hur who will leave at the end of July. Simi has decided to take a career break after 10 successful years in the role. Oshrit will start on June 7th which will allow a suitable hand over period.
Oshrit has 15 years' experience in the charity sector and joins from The Anne Frank Trust UK where she was Donor Relationship Manager. Prior to that she was Fund Raising manager at The Spanish and Portuguese Sephardi Community after five years at Norwood in various roles.
Jonathan Paull, Chairman of Shaare Zedek UK, said "We are delighted to welcome Oshrit to the Shaare Zedek team to succeed Simi. She has 15 years of extensive fundraising management experience in the Jewish community which will be of great benefit as we move forward. We all look forward to working with her. On behalf of the Trustees, I would like to thank Simi for her dedication, commitment, and leadership over the past ten years. We have all enjoyed working with her".
Oshrit Cowan said "I am pleased to be joining such a prestigious and successful UK-Israeli organisation and look forward to working with such dedicated and professional teams both in London and Jerusalem and building on their success. I have close connections with Israel through my family who historically come from the Machne Yehuda neighbourhood and lived next door to the original Shaare Zedek building".
Simi Ben Hur said "I have worked with some inspirational leaders, colleagues, and supporters over the past 10 years. Fundraising for a world-class hospital through a global pandemic was a privilege and a challenge not many have experienced. I am incredibly proud of the work my team has achieved together. My greatest achievement is the recruitment of the dynamic Chair-CEO team we have in Jonathan and Oshrit. I am sure they will build on the great work my team and I have done and look forward to celebrating their success."