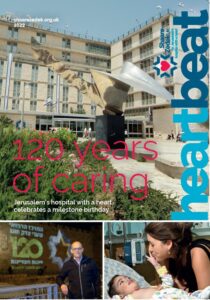 We are delighted to share this special edition of Heartbeat, celebrating 120 years of the Shaare Zedek Medical Centre.
Shaare Zedek has always been ready to provide support whenever Israel and the world has needed us. This issue is packed full of stories of hope in the darkest of times. You will read about how the hospital is helping Ukrainian Refugees and the life changing impact your support is making.
With things returning to normal a little more this year we are very pleased to have Jeremy Feldman running the London Marathon for us in October. You can sponsor his efforts by visiting his fundraising page.
Click on the image to read our 2022 edition of Heartbeat.