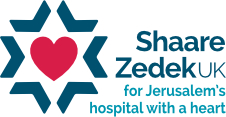 Shaare Zedek UK is in a very exciting period of change. We have welcomed Jonathan Paull our new Chairman and Oshrit Cowan our new CEO and are now looking to hire for two new positions.
Salary – £42,000 – £48,000 FTE (based on experience)
Hours – open to flexibility (Core hours of 10am – 2pm must be observed on working days)
and
Charity Fundraising Administrator
Salary – £24,960 pro-rata (£12 per hour for 18 hours per week)
Hours – 18 hours per week, worked as 9.30am to 2.30pm Monday to Thursday.
Click on the links above to download the full job descriptions and email your CV and covering letter to info@shaarezedek.org.uk
It's a very exciting time to be joining our wonderful charity.
We exist to raise funds for the Shaare Zedek Medical Centre in Jerusalem, which serves more than half a million patients annually.
With close to 100 departments, spanning 14 centres of medical excellence, Shaare Zedek serves more than half a million patients annually. The hospital looks after patients from all religious, racial, financial and political backgrounds. and is the fastest growing hospital in the region.
Since 1902 Shaare Zedek has served and continues to respond to the needs of Jerusalem's uniquely diverse population. You can be part of the team helping support their incredible work, by joining Shaare Zedek UK.
We look forward to meeting you.