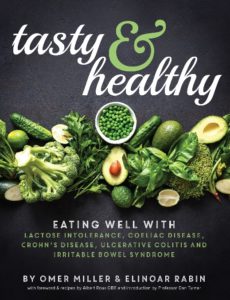 Shaare Zedek UK are thrilled to announce the English translation of 'TASTY & HEALTHY' a fantastic new cookbook for people suffering with various stomach related disorders. Do you have Chron's disease, Colitis or IBS? Do you know someone who is Lactose intolerant or Coeliac? If the answer is 'YES' then, this cookbook is perfect.
A collaboration between leading Israeli Chef, Omer Miller and Shaare Zedek's very own Director of Pediatric Gastroenterology Professor Dan Turner, Tasty & Healthy is full of delicious recipes and has a colour coded system for the various conditions covered so you know if they are appropriate for you / your friend / dinner party guest.
Professor Dan Turner, who chairs the inflammatory bowel diseases (IBD) group of the European Society of Pediatric Gastroenterology (ESPGHAN) says that the purpose of this book is to offer recipes for a variety of tasty dishes, suitable for intestinal diseases, based on currently available scientific evidence. "Our initial intent was to provide recipes for Crohn's disease and ulcerative colitis, but in the course of our work, we found that the recipes are also suitable for other intestinal diseases: irritable bowel syndrome (IBS), coeliac disease, lactose intolerance and wheat/gluten sensitivity. Tasty and Healthy aims to enable anyone living with intestinal disorders to eat well and enjoy food."
The book was published with great success in Israel, and this new English language version has been completely re-designed, with the addition of a new selection of recipes from culinary legend Albert Roux, including braised lamb shoulder, Thai green chicken curry and pan-seared sea bass. "Good food is, for me, the greatest pleasure in life, and I understand the challenge it can be to have to eat a restricted diet and still maintain real enjoyment and good health.
"That's why I'm so delighted that the Roux family has been able to contribute recipes to this unique cook book that are delicious, and in line with the recommendations that Professor Dan Turner and his incredible team at Shaare Zedek have made to meet the digestive requirements of children with gastroenterological conditions," says Albert Roux OBE, KFO and Legion d'Honneur
It is estimated that one in eight people in the UK suffer from IBS, coeliac disease affects one in a hundred; five in a hundred have lactose intolerance, and there are approximately 300,000 people diagnosed with IBD (ulcerative colitis and Crohn's Disease).
Tasty & Healthy has been endorsed by Professor David Wilson, clinical lead for Paediatric Gastroenterology and Nutrition in SE Scotland and a personal chair at The University of Edinburgh; Lord Leslie Turnberg, previously a president of the Royal College of Physicians and president of the Medical Protection Society. He is currently the scientific adviser to the Association of Medical Research Charities, and Dr Mark Furman Consultant paediatric gastroenterologist.
All proceeds from the sale of this book will be going to Shaare Zedek Medical Centre and will go towards funding workshops for children and teenagers suffering from inflammatory bowel diseases, held at the Anne & Joe Turner Paediatric Inflammatory Bowel Centre at Shaare Zedek Medical Centre, Jerusalem. The workshops have been held since 2008 and are open free of charge to Jewish and Arab children from all over Israel.