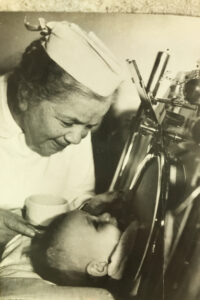 Schwester Selma was the first Head Nurse at Shaare Zedek Medical Centre. Her compassionate style of nursing established the Hospitals model of care for all time.
Arriving from Germany in 1916, in the midst of a Typhoid epidemic in Jerusalem, she tackled this with competence and care. In 1936, she founded and directed our School of Nursing, on which her imprint still remains. She was described by Time Magazine as a living saint and "something of an angel". Selma Meyer passed away on her 100th birthday in the hospital in which she had lived and served almost her entire adult life.
Her autobiography can be read here….. My Life At Shaare Zedek, featuring momentous stories of her incredible decades of service.