Liba Ahuva Schreiber was the victim of a terrorist shooting in August 2022 and arrived at Shaare Zedek Medical Centre in very serious condition. 26 weeks pregnant at the time of the attack, the hospital's trauma and obstetrics teams fought to save the life of Liba and her baby boy who was born prematurely. We are thrilled to share that just before the start of Chanukah, Liba walked out of Shaare Zedek on her own two feet cradling her baby boy who has made remarkable progress and is well enough to go home.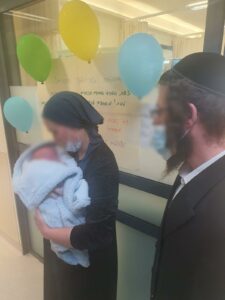 Liba's husband, Rabbi Chaim Schreiber shared "We are so grateful to the Creator of the World for the miracles and wonders bestowed on us and to all the dedicated medical teams at Shaare Zedek as well as those at Magen David Adom who helped save the life of my wife and our baby. We arrived here hours after Tisha B'Av and we are leaving just before Chanukah."
Liba and Rabbi Schreiber left the staff with a letter of thanks "Thank God for performing for us a miracle in this very spot. Thank God that we are able to leave here with our hands full carrying our sweet son Dovid who opens his beautiful blue eyes and looks in all directions offering his thanks to all of you."
The staff who were involved with Liba and her son's care were very emotional remembering the severity of their injuries. Liba and Dovid still have a long road to full recovery and will require ongoing monitoring and treatments including follow-up surgeries however they are now at home celebrating their first Chanukah together as a family.