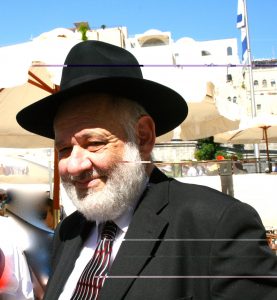 Rabbi Avraham Shmuel Goldberg was one of the four Rabbis tragically murdered in the despicable massacre in the Kehillat Yaacov Synagogue in Har Nof Jerusalem. To commemorate the first Yahrzeit on 7 November 2015 (25 Cheshvan), his cousins and friends are aiming to raise funds for a life-saving three bedded unit in the Emergency Department of the Shaare Zedek Hospital as a meaningful memorial to him.
As the dying and critically wounded from the massacre were admitted to the Shaare Zedek, his family and friends felt it appropriate that a project should be established at the hospital in his name.
Rabbi Goldberg z"l was born and raised in Liverpool where his family were an integral part of the community. Rabbi Goldberg was educated at the Liverpool Institute before studying at Gateshead and then Sheffield University where he received a degree in Chemical engineering followed by a PhD from Liverpool University. Rabbi Goldberg pursued his career in the chemical industry where he was an authority on chemical powders and later in publishing Jewish Books
Following his marriage to Bryna (Sobell) he moved to Golders Green London. Subsequently Rabbi Goldberg emigrated to Israel with his family, firstly to Ofakim and then to Har Nof, Jerusalem.
Rabbi Goldberg was a very well respected and popular member of the Har Nof community and is sorely missed by all who knew him.
He leaves a widow, six children, grandchildren and a great grandson who was born after his death.
We are delighted to have reached our initial fundraising target which was £67,000, but the family are continuing to raise funds in Rabbi Goldberg's memory to maintain the life-saving equipment they have purchased. If you would like to contribute to this very special project, please click the 'donate' button. Thank you
So far your kind donations have raised £68,880
Donate now
Remembering Rabbi Avraham Goldberg