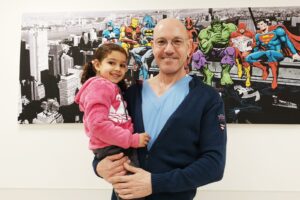 This is Dr Yaakov Amsalem who is the Director of our Interventional Neuroradiology Unit at Shaare Zedek Medical Centre, together with four-year-old Ayla Hussain.
For nearly a year Alya has been very unwell. It is very unusual for a child to suffer a stroke, but at the age of four little Ayla has suffered many. As you can imagine this has had a dreadful impact on her life, she lost the use of the right side of her body and the ability to speak. For over a year treatments to help did not work and so her father, Muhammad decided to take her to Shaare Zedek where Dr Amsalem saved her life.
Dr Amsalem performed an incredibly complex brain catheterisation on Alya and as we are sure you can tell from this photo, we are thrilled to share it was a success. Alya has been able to return to her normal life, going to nursery and playing as normal with the rest of her friends just as a four year old should.
Alya's father shared "After nearly a year, during which we almost lost her, Shaare Zedek saved her for us"
Not all superheroes wear capes!!