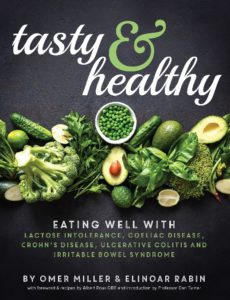 Shaare Zedek together with Camp Simcha and Jewish Digest, will be holding an event on the 13th November 2019.
Promoting the Tasty and Healthy Cookbook. A collaboration between leading Israeli Chef, Omer Miller and Shaare Zedek's very own Director of Paediatric Gastroenterology Professor Dan Turner. Tasty & Healthy is full of delicious recipes and has a colour coded system for the various conditions covered so you know if they are appropriate for you / your friend / dinner party guest.
All proceeds from the sale of this book and proceeds raised at the event  will be going towards funding workshops for children and teenagers suffering from inflammatory bowel diseases, held at the Anne & Joe Turner Paediatric Inflammatory Bowel Centre at Shaare Zedek Medical Centre, Jerusalem. The workshops have been held since 2008 and are open free of charge to children from all over Israel.
We are thrilled that Professor Dan Turner has taken time out of his busy schedule to fly to London to speak at our event. We look forward to welcoming him in November.